Scotch-Brite™ Roloc™ Bristle Disc comprises of our Ceramic Abrasive Grain, blended with aluminium oxide and moulded, flexible bristles which provide more surface contact than wire brushes and keep their abrasive properties throughout the life of the disc.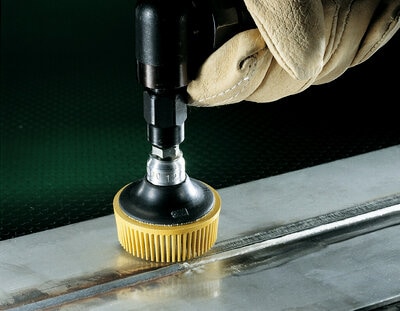 Our fast-running disc combines superior cutting action with the 3M™ Roloc™ quick change attachment system to help you efficiently clean, strip, deburr, blend, finish, polish, scratch, and remove rust and coatings without damaging the base material. Under normal use, bristles remain safely in place and can achieve the desired finish using light pressure. Scotch-Brite™ Roloc™ Bristle Disc works well on steel, aluminum and a variety of other metals, in general maintenance, as well as automotive and engine rebuilding applications.
3M™ Ceramic Abrasive Grain is a ceramic mineral manufactured using our proprietary process to enhance toughness and hardness of the grain. For increased performance, Scotch-Brite™ Bristle Discs feature aluminum oxide blended with ceramic abrasive grain for one of the hardest, longest-lasting minerals available. Perfect for moderate to heavy stock removal, ceramic abrasives are engineered to cut fast and handle intense heat and stress applications. 3M™ Ceramic Abrasive Grain surpasses aluminum oxide abrasives in cut-rate, durability, and makes an excellent choice for industrial grinding and finishing applications.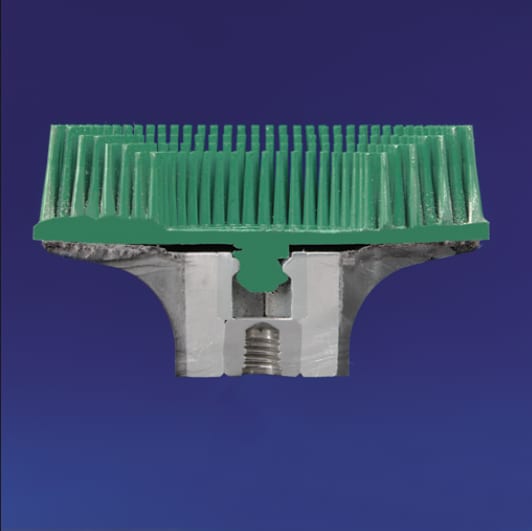 Roloc™ attachment
Scotch-Brite™ abrasives are unique surface conditioning products with abrasives incorporated into non-woven fiber matrix. Combining abrasives and non-woven material creates an abrasive system that gives you consistent results for the life of the product. The open-web material runs cool and is load resistant, which keeps the abrasive minerals cutting at high performance by limiting clogging of the fibers.