Scotch-Brite™ SR Radial Bristle Disc comprises of sharp plastic abrasive particles interspersed on flexible spring-like bristles that conform to the substrate with a sharp cutting and flexible action. Our discs are designed to remove light silicones and adhesives, without damage to the underlying coat.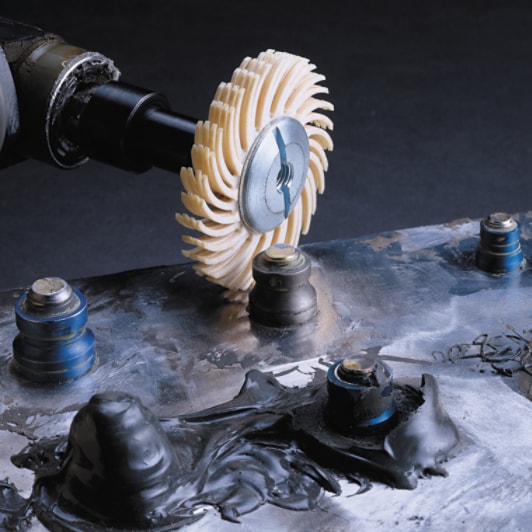 Removes Unwanted Coatings
When used at recommended operating speeds, our Scotch-Brite™ SR Radial Bristle Disc removes thin layers of sealants, silicones, RTVs and adhesives from most surfaces without removing the underlying paint or coating. Bristle products have no hard edges the way other wheel products do, so they can be compressed to fit into curves and hollows without inducing damaging gouges and trails on the work piece.
Conforms to the Substrate
The Scotch-Brite™ SR Radial Bristle Disc has flexible bristles that conform to the part, creating an incredibly uniform finish even around protrusions, detail grooves, patterns and other hard-to-reach areas. It replaces hand scraping, which means less operator fatigue and less time spent on rework. The SR Radial Bristle Disc also eliminates the need for harsh chemicals, which means there's no need for specialized ventilation or cleanup equipment. Both the 3M™ SR Cutter and the SR Radial Bristle Disc remove sealants from substrates. However, the SR Cutter is designed to remove thick coatings while the SR Radial Bristle Disc is designed to remove thin coatings.
Roloc™ Attachment for Easy Swap Out of Discs
Our Scotch-Brite™ SR Radial Bristle Disc comes with Roloc™ attachment accessories, including plastic Roloc™ buttons and holders. These buttons and holders were designed to make fastening the disc to portable hand tools like right angle grinders and straight grinders quick and easy. With 1/2 turns, operators can quickly attach or detach the disc to the grinder, making for fast changeouts between discs. The Scotch-Brite™ SR Radial Bristle Disc can also be used with a variety of 3M™Mandrels to adjust widths and tailor the size to meet project needs. Minimal pressure and force is needed with Bristle Discs - the aggressive cutting action, responsive bristle design and power of the tool combine to do the work for you.
An Alternative to Compounds and Hand Scraping
Critical maintenance and repair tasks often depend on effective seam sealant removal. This task is often an integral part of every mechanic's job. Until now, there were limited choices for removing seam sealant. One was to use chemical solvents, which raise health, safety and environmental concerns. Solvents take time to work, and can be messy to clean up. The other choice for removing seam sealant was hand scraping, which is slow, expensive, and inconsistent. Scraping by hand may also lead to repetitive-motion stress injuries. In addition, some scraping tools can damage the surfaces under the seam sealant. Wire brushes, for example, can aggressively cut aluminum and weaken the integrity of the part. With our Scotch-Brite™ SR Radial Bristle Disc, operators can safely and effectively remove sealants while still maintaining the integrity of the part.