3M™ Diamond Brazed Grinding Wheel 108Z safely and effectively provides high stock removal with a high degree of form retention when grinding hard to grind materials. The diamond mineral is chemically bonded to the wheel, delivering a more aggressive and freer cut, as well as longer life. This provides an overall improvement in value to the manufacturing operation.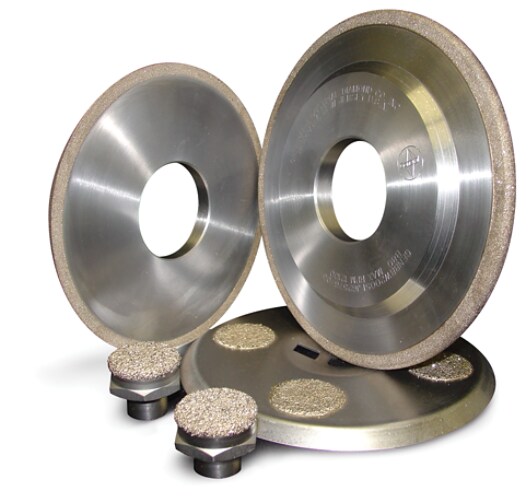 Superabrasive Wheels generally cut more aggressively than bonded wheels and offer longer life than plated wheels
3M™ Superabrasive Wheels - Brazed
Brazed wheels — including 3M™ Diamond Brazed Grinding Wheel 108Z — consist of a single layer of diamond abrasive chemically attached to a steel core allowing for grain spacing and placement control which in turn, allows for fast stock removal. Fast stock removal means jobs can move quickly for improved throughput and an efficient manufacturing process. Additionally, 108Z cuts more aggressively than some bonded wheels while offering longer life than many plated wheels. For these reasons, our brazed wheels are an excellent choice for form grinding and other heavy stock removal applications, and do not require dressing.
See 3M™ Superabrasive Wheels for Cutting Tools
(PDF, 795.97 Kb)
Diamond: the Secret to a Sharp, Long-lasting Cut
The secret to a sharp, long-lasting cut is the diamond mineral of 3M™ Diamond Brazed Grinding Wheel 108Z. The diamond mineral is chemically bonded to offer a more aggressive and freer cut as well as longer life for the single layer of diamond mineral. Using an electroplating process, we deliver a wheel that can grind a very precise shape into a piece of metal. This process can easily be repeated, over and over, throughout the extensive life of this grinding wheel.
How it Works
Here's how it works: Our superabrasive wheels are composed of diamond bonded to a core. Diamond is the hardest known substance and the only abrasive capable of effectively grinding, cutting or sharpening ultra-hard materials such as cemented carbides, ferrites and ceramics. We place diamond on the edge of the wheel using a brazing process. Unlike a resin bond wheel, the 3M™ Diamond Brazed Grinding Wheel 108Z has a very precise shape. Because of the very hard diamond mineral, this diamond wheel offers great material removal and accuracy.
Once the layer of diamond is removed after extended use, it can be replated. From start to finish you can count on 3M™ Diamond Brazed Grinding Wheel 108Z to provide the consistent and long-lasting cut numerous customers have come to expect from 3M abrasives. This product is an excellent example of how 3M applies science to provide effective solutions to your grinding needs.
Learn More about 3M Superabrasives
(PDF, 1.95 Mb)
Applications
Form cutting and straight grinding of ceramics
Carbon-carbon composites
Fiberglass-graphite composites
Cast iron
Ferrite
Friction lining
Graphite
Plastics and rubber