Mount your photopolimeric plate to print cylinders with 3M™ Cushion-Mount™ Plus Plate Mounting Tape L1020. Our 0.51 mm white, double coated foam tape has the air release feature and is tolerant to ink contaminates allowing for easy and clean plate removal. It is used for combination jobs.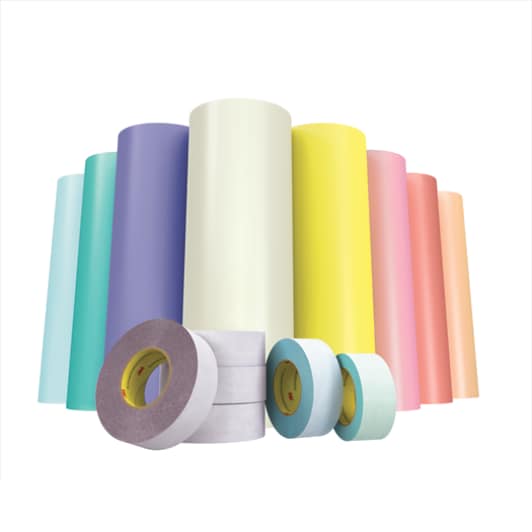 Differential acrylate adhesive system on each side of a foam carrier, protected by a release liner on one side
Bubble Free Flexographic Plate Mounting
3M™ Cushion-Mount™ Plus Plate Mounting Tape L1020
(PDF, 339.2 Kb) is a white foam tape that provides high quality combination print. This is the standard tape for combination print. It has the air release feature that allows for bubble free mounting. Notably, this flexographic plate mounting tape has excellent resistance to lifting on press and is tolerant to ink contaminates, allowing for easy and clean plate removal.
Learn more about 3M™ Flexographic Plate Mounting Systems
(PDF, 5.00 Mb)
Recommended Applications
Mounting photopolymer plates to flexographic printing cylinders and sleeves
Used in combination, process and solid printing processes
3M sticky back tapes are designed for wide-web presses to print film or paper for flexible packaging industry
3M flexographic plate mounting tapes are highly engineered to provide very tight caliper tolerance to allow printers to use tape from different manufacturing lots and keep tight print registration. The compressible foam will withstand long and high speed print runs.
This cushion tape is manufactured for 20 mil applications. It is constructed with engineered acrylic adhesives. The adhesive on the linered (plate) side of the tape is designed for mounting photopolymer plates. Easy plate removal from tape may result in less worker fatigue and plate damage. The adhesive on the non-linered (sleeve/cylinder) side is designed for mounting to flexographic printing cylinders or sleeves, providing easy application at mounting and clean removal when demounting.
On Easy with Reduced Air Entrapment
3M air release liners have a crosshatched pattern, unlike other mounting tapes that use a pebbled or flat release liner. The embossed crosshatched pattern imprints unique micro-channels into the easy mount adhesive that allows entrapped air to escape. Air bubbles disappear from between the tape and plate, and between the tape and sleeve or cylinder for virtually bubble-free mounting. Setup is faster with smoother surfaces for cleaner print quality and higher productivity. The adhesive maintains tight contact with reduced edge lifting.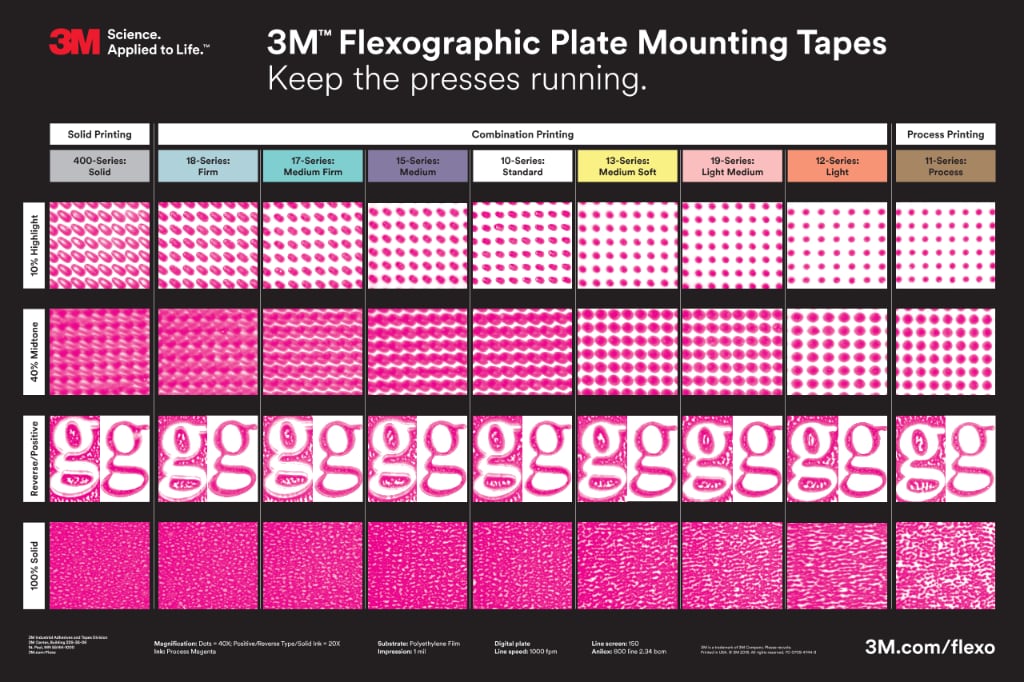 Wide choice of adhesives, foams and thickness
Keep the Presses Running and your Customers Coming Back
For decades, 3M products have been at work in printing plants helping to improve the quality of the work that goes out and the efficiency of how it gets done.