3M™ Cloth Belt 967F features our high-performing 3M™ ceramic abrasive grain on a resilient polyester backing to give you outstanding durability.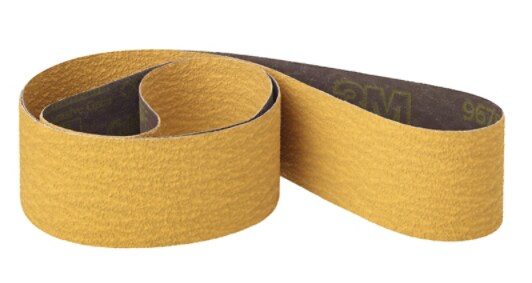 Long lasting, excellent cut on stainless steel, titanium, and nickel and cobalt alloys
Tough, Flexible and Heat Resistant
Our 3M™ Cloth Belt 967F incorporates a grinding aid for superior performance on titanium and other heat-sensitive materials and is recommended for dry grinding in medium to high pressure applications such as random grinding systems or roll grinding applications. Heavyweight backing provides improved adhesion and shelling resistance over other cloth backings to support demanding applications and a consistent cut-rate, and is resin-bonded to withstand high heat and pressure. Common applications are descaling, gate removal, high pressure grinding, intermediate finishing, parting line removal, and shaping.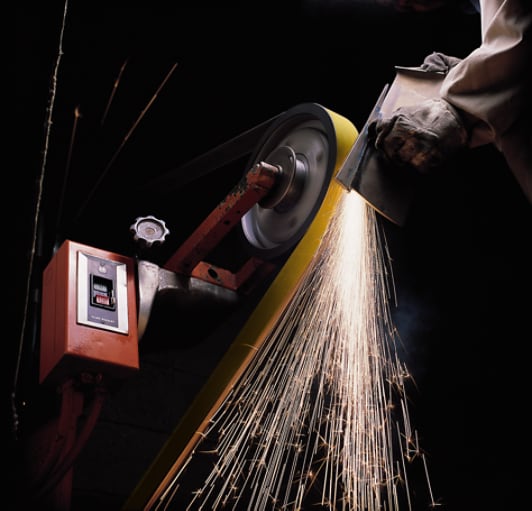 Ideally suited for stripping chrome from old parts as they are being rebuilt
3M™ Ceramic Grain
Proprietary 3M™ Ceramic Abrasive Grain is our ceramic mineral chemically engineered with a unique "stay sharp" crystalline structure, which continually reveals fresh cutting edges on the surface of the work piece ensuring a sustained cut. The grain is formed using our proprietary process to enhance toughness and hardness of the grain, for long product life and significant productivity benefits. Abrasives made with 3M ceramic abrasive grain have outstanding durability and improved cutting efficiencies. These products have a long service life, cut exceptionally fast and can stand up to high pressure production environments even on the toughest materials.
Get the Belt You Need
Abrasive belts come in many different widths and lengths and are used on a variety of different belt sanding tools for many different applications on both wood and metal. At 3M we offer a broad selection of belts to fit most any industrial belt sander. Wider belts are used with wide belt sanders to dimension or finish wood panels, smooth rough cut edges of metal sheets, or add a grain pattern to stainless steel sheets. Medium-width belts fit onto edge sanders for sanding flat, narrow surfaces such as panel edges; and narrow belts are used with portable belt sanders for sanding or blending wood pieces such as cabinet doors.
Belts come with various splices that join the belt ends. 3M™ Cloth Belt 967F has a film splice for added strength when grinding in high pressure applications.