3M™ File Belt Sander Contact Wheel Replacements contains everything you need to easily replace the contact wheel on your 3M™ File Belt Sander and help keep it operating at peak performance.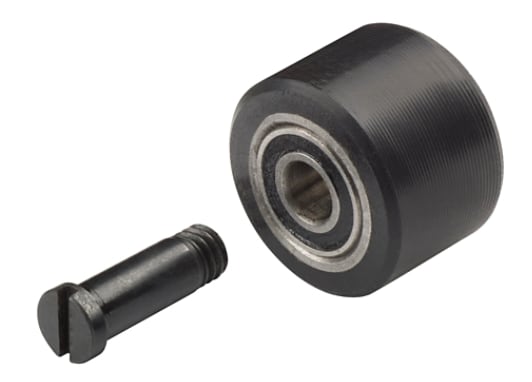 The contact wheel is designed for smooth performance and to maximize life of abrasive belts
Allows technicians to access hard-to-reach areas and is great for spot weld removal, deburring, cleaning and finishing
Replace Just the Contact Wheel, Not the Entire Contact Arm Assembly
Keeping your 3M™ File Belt Sander (PN
33573
and
33575
) operating at peak performance becomes faster and easier with our 3M™ File Belt Sander Contact Wheel Replacements. This convenient kit includes a durable rubber contact wheel and the screw needed to quickly install it into the end of the contact arm. Instead of replacing the contact arm assembly — or the entire tool — you can simply remove the old contact wheel and screw the new one into place.
Designed specifically for your 3M™ File Belt Sander, the contact wheel is designed to place minimum pressure on abrasive belts for prolonged abrasive life, and is critical for smooth and effective operation of the sander.
About the 3M™ File Belt Sander
Featuring a lightweight design and a narrow profile, the 3M™ File Belt Sander is ideal for automotive work and is especially suitable for sanding or grinding in tight areas, such as between door panels or along sharp contours. It provides the power and maneuverability you need for a range of jobs including spot weld and hem flange removal; surface prep; urethane, seam sealer and gasket removal and weld clean-up. In many cases, the belt sander can replace a traditional spot weld drill.
This file belt sander is designed for use with
3M™ Cubitron™ II Abrasive Belts
, created for performance grinding and long abrasive life.
About 3M™ Cubitron™ II Abrasives
3M™ Cubitron™ II abrasive discs, cutoff wheels and file belts
(PDF, 36.21 Mb) have raised the bar for high-performing abrasives. 3M Cubitron II abrasives feature our Precision-Shaped Grain (PSG) technology, which allows our engineers to control the geometry of the abrasive grain for a truly fast, efficient cut. It also allows the disc to run cooler and require less pressure than other conventional ceramic abrasives, excellent for lighter weight materials. Instead of simply crushing the abrasive into particles, 3M uses microreplication to uniformly size ceramic grains and precisely shape them into triangular structures — essentially, sharp peaks that slice, not plow, through paint and metal. These grains are electrostatically oriented on the abrasive surface for the most efficient cut and even wear. What's more, PSG fractures during use to maintain sharp abrasive edges. The result: 3M Cubitron II cuts 30% faster and lasts 2x longer than conventional ceramic abrasives.
Better Science for Better Sanding from 3M
Our 3M™ File Belt Sander Contact Wheel Replacements is part of a complete portfolio of abrasives and tools specifically designed for auto repair. Designed specifically for the 3M™ File Belt Sander, it is an excellent example of how 3M brings out the best in automotive collision repair projects: Science. Applied to Life.™