3M™ Aluminum Foil Tape 431 is for numerous applications across a broad range of industries. Our tape is comprised of a dead soft aluminium foil backing and coated with a highly engineered pressure sensitive acrylic adhesive.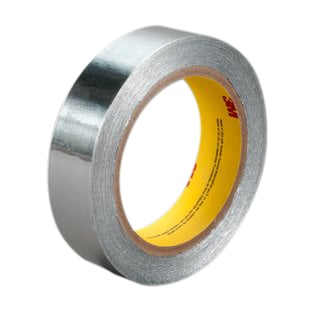 Good aging performance both indoors and outdoors
Withstands Exposure to High Heat and Humidity
Consisting of a dead soft, thermally conductive aluminum backing, 3M™ Aluminum Foil Tape 431 dissipates heat over the surface of the tape to reduce hot spots and protect the substrate from the effects of high temperatures. Coated with our highly engineered acrylic adhesive, it is capable of withstanding exposure to high heat and humidity while maintaining a strong and reliable bond. This tape can withstand a variety of moisture, weathering, UV and solvents in order to provide an excellent work life, indoors or out.
3M™ Aluminum Foil Tape 431 is Classified by UL to UL 723 "L" for low flammability rating (File R 7311). It meets F.A.R 25.853(a). Temperature use range is from -65° to 300° F (-54° to 149° C).
Recommended Applications
Heat shielding of delicate parts
Heat reflecting
Moisture barrier
Light reflecting for light enhancement
Seaming and sealing
Refrigerator and freezer coil attachment
Plastic protection against heat and UV exposure